Renowned Indian singer and legendary S.P. Balasubrahmanyam, 74, who worked predominantly in Telugu, Tamil, Kannada, Hindi and Malayalam passed away in Chennai on Friday at 13:04 Hrs, after battling coronavirus for over a month.
Balasubramanyam tested positive for COVID-19 and was admitted to a private hospital in Chennai early in August and his condition deteriorated by August 13. He was shifted to the ICU in a critical state and was kept on ventilator support till now. He was declared to be in "extremely critical" stage by Chennai-based MGM Hospital  on Thursday, Septemeber 24, 2020 and he was declared dead today.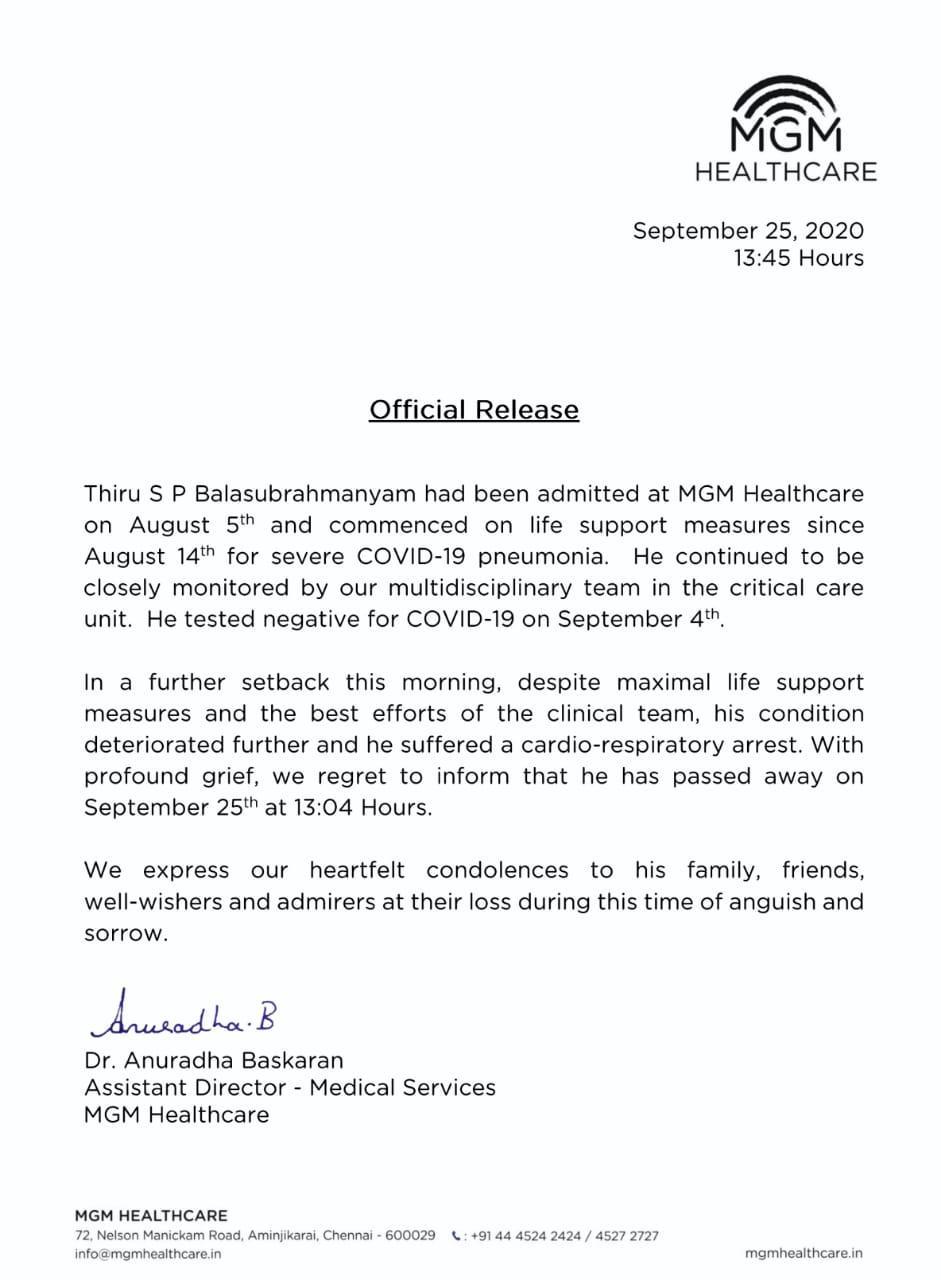 Legend in Telugu
Balu, as he is known in the film fraternity, has recorded over 40,000 songs in 16 Indian languages and holds the Guinness World Record for recording the highest number of songs by a singer.
He received six National Film Awards for Best Male Playback Singer for his works in four different languages; Kannada, Telugu, Tamil, and Hindi; 25 Andhra Pradesh state Nandi Awards for his works towards Telugu cinema, numerous other state awards from Karnataka and Tamil Nadu.
In 2016, He was honored with the Indian Film Personality of the Year consisting of a Silver Peacock Medal and he received civilian awards such as Padma Shri (2001) and Padma Bhushan (2011) from the Government of India.
Early Life
Born on June 4, 1946 in Nellore, Balasubrahmanyam developed an interest towards music at an early age, studied notations and learned music. He enrolled at JNTU College of Engineering Anantapur for engineering but discontinued his studies due to typhoid and joined as an Associate Member of the Institution of Engineers, Chennai.
He started his singing career in 1966 with the Telugu film Sri Sri Sri Maryada Ramanna and he held the the rare distinction of rendering the most songs on a single day by any singer — recording 21 songs in Kannada for the composer Upendra Kumar in Bangalore from 9:00 am to 9:00 pm on 8 February 1981 and 19 songs in Tamil, 16 songs in Hindi in a day which is a notable achievement and a record.