Eleven people were killed in Visakhapatnam (Vizag) styrene gas leak tragedy that shook the coastal city in Andhra Pradesh in India during the wee hours on Thursday between 02:30 to 03:00 AM. More than 1,000 people who live in villages surrounding the factory have been shifted to hospitals in the city of Vizag and a massive hunt is on for those still inside homes or died during sleep.
The deadly gas leaked from a closed LG polymers factory in Vepagunta village in Gopalapatnam near Vizag was identified as styrene gas, which is one of the most poisonous gases that affects lungs and nervous system initially and many vital organs over a period of two to three years. The gas leakage started at 3 pm in the night and many panic-stricken local villagers reportedly ran out of their homes towards Meghadrigedda nearby but further exposed to more gas and suffered on the roads and streets. The visuals of people falling down on roads and pavements filled the local TV screens.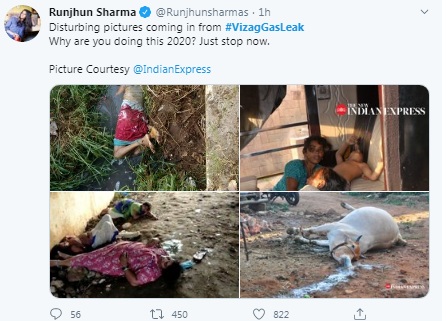 While three people died after falling into a canal, five have been declared brought dead by the King George Hospital, where more than 180 people are currently being treated, said local reports. Many animals were seen already dead by morning or struggling to breathe in the open.
The leak reportedly occurred in Styrene gas chamber, that was shutdown for over a month due to the coronavirus lockdown. The doctors have warned that inhalation of this poisonous gas is dangerous with long-standing effect on lungs, liver and other vital organs of the body, besides affecting the nervous system of the human body.
Evacuation
Vizag District collector V Vinay Chand said the tragedy occurred while the plant was being recommissioned after the COVID lockdown without giving more details on how the mishap took place in the night. People from all villages around the plant have been shifted to safer places nearby and people are advised to put wet cloth on their faces covering eyes, he said.
Ambulances and RTC buses are arranged to evacuate local villages from the affected area.  "Initial attempts to control the gas by spraying did not yield any result. It will take another two hours to bring the gas leak under control," said the collector soon after the accident.
The chief minister of Andhra Pradesh, Mr Jagan Mohan Reddy announced Rs. 1 crore ($145,000) in compensation to each affected family with a death. Local leaders blamed the LG polymers, of the Korean conglomerate, which was built in 1997 at RR Venkatapuram near Gopalapatnam village in an area of 200 acres. It has a capacity of producing 400 tonnes of polystyrene daily using styrene, a highly inflammable liquid. As the area was a green zone under Covid-19 measures, the lock-down was eased earlier this week prompting the factory to resume production.
Medical doctors have advised those who are likely to have inhaled the gas up to five kilometers in radius to follow some quick precautions such as:
— Drinking more water
— Using a wet cloth mask
–Use eye-drops if there is any irritation in eyes
–Stay at home instead of going out and getting exposed to the gas, and
— Consult doctor immediately for treatment.
What is Styrene Gas?
Styrene gas was first isolated in 1839 by a German apothecary, Eduard Simon, from the resin called storax or styrax of the American sweetgum tree and named the liquid "styrol", which eventually came to be known as styrene and in 1866 the French chemist Marcelin Berthelot stated that "metastyrol" was a polymer of styrene or polystyrene. It is used in making rubber, plastic, insulation tapes, fiberglass, pipes, automobile and boat parts, food containers and carpet backing.
Styrene is a "known carcinogen", especially in case of eye contact, skin contact and of inhalation, as styrene oxide is considered toxic and mutagenic. Exposure to styrene causes cancer, according to some studies. The US National Toxicology Program of the U.S. Department of Health and Human Services has determined that styrene is "reasonably anticipated to be a human carcinogen."