Congress leader Priyanka Gandhi's offer to ply 1,000 buses to transport stranded labourers and migrants in Delhi to their homes in Uttar Pradesh has been accepted by the UP government after dragging ts feet for over two days. The state Additional Chief Secretary Awanish Awasthi replied to Priyanka Gandhi's private secretary accepting the offer and requesting more details including a list of the drivers and conductors.
प्रवासी मजदूरों की भारी संख्या घर जाने के लिए गाजियाबाद के रामलीला मैदान में जुटी है। यूपी सरकार से कोई व्यवस्था ढंग से नहीं हो पाती। यदि एक महीने पहले इसी व्यवस्था को सुचारू रूप से किया जाता तो श्रमिकों को इतनी परेशानी नहीं झेलनी पड़ती।

कल हमने 1000 बसों का सहयोग देने की ..1/2 pic.twitter.com/06N47gg94T

— Priyanka Gandhi Vadra (@priyankagandhi) May 18, 2020
In her May 16 letter soon after the tragic road accident when 25 migrants had died near Aurraiya, Congress general secretary Priyanka Gandhi wrote to CM Yogi Adityanath offering to bear the cost of 1,000 buses to transport migrants to UP. She said thousands of migrants from various parts of the country were walking down to their homes and 65 of them died on the road that was more than the COVID-19 tally in the state.
.@myogiadityanath जी महामारी के समय इंसान की जिंदगी को बचाना, गरीबों की रक्षा करना, उनकी गरिमा की हिफाजत करना हमारा नैतिक दायित्व और अधिकार है।

कांग्रेस इस कठिन समय में अपनी पूरी क्षमता और सेवाव्रत के साथ अपने कर्तव्यों का पालन कर रही है।

ये बसें हमारी सेवा का विस्तार हैं। 1/3

— Priyanka Gandhi Vadra (@priyankagandhi) May 18, 2020
Priyanka Gandhi offered to provide 1,000 buses to transport migrants and bear the cost by the Congress Party and said 500 buses were being parked at Ghazipur border in Ghaziabad and another 500 buses at Noida. Amid adverse media reports, the UP Government has finally decided to give permission.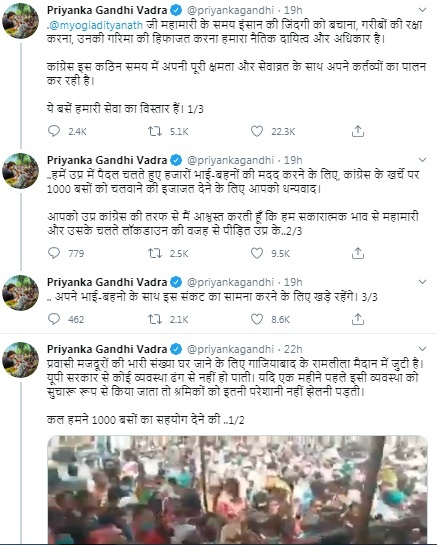 Earlier, Priyanka had deplored the poor mismanagement at Ghaziabad's Ram Lila ground where a large uncontrollable crowd of migrants had gathered and were seen pushing each other, ignoring social distancing norms in the wake of coronavirus pandemic, to register to return home.
"If this exercise had started a month ago the migrants would not have had to undergo such hardship. I had offered 1,000 buses and had parked them at the UP border but the UP Government kept playing politics and did not give permission. The UP Government is not helping those hit by this pandemic and is neither allowing others to do it," Priyanka had said in her earlier tweet.
After the approval of her request, she said, "The nation-building workers cannot be left like this to fend for themselves. The Congress party is committed to help them," and thanked the state government for accepting the offer.